Little happiness on the big shore: an experience for all water lovers and those seeking for relaxation, who yearn for nature as it was created. Immerse yourself - welcome to the lake promenade!
Swimming in the lake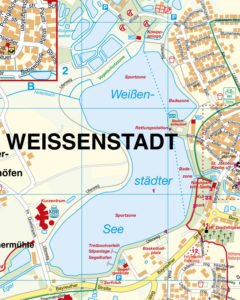 The 48 ha large lake of Weißenstadt is ideal for bathing, swimming and splashing around.
Bathing is permitted in the two bathing zones, the sandy beach in the bating bay invites you to relax and unwind.
At the deepest point, the water depth is approx. 3.5 meters. The water quality of the lake of Weißenstadt is regularly rated as "excellent".
There is also a natural swimming pool at the campsite, which is freely accessible.
Sailing
After long, snowy and cold winters, in April the lake frees itself from ice and offers ideal conditions for sailing.
A predominant western wind drives the boats over the water. On the southern shore there is the landing stage and the ground of the Weißenstadt
Sailing club.
All informations about sailing in Weißenstadt can be found at www.swvw.com
Stand up paddling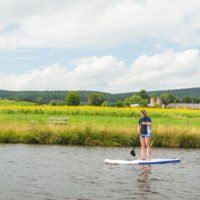 The new trend sport is of course also possible in Weißenstadt. The boat rental "Open Water Park" next to the sailing area offers also stand up paddling boards for rental.
Open Water Park
Bayreuther street 54
Information under 0171 7135531
Pedal boar riding
At the "Open Water Park" at lake Weißenstadt you can not only rent pedal boars, but also water bike, kayak, canoe, surfboards with and without sails and dragonboats.
Open Water Park
Bayreuther street 54
Information under 0171 7135531
Windsurfing
The lake has also been used by windsurfers since the mid-seventies. In the southwestern area of the lake are the windsurfing school and the surf club Weißenstadt.
The structure is very comfortable thanks to large grass and a nearby parking lot.
The entrance into the water is possible without barriers, because the shore area is mostly flat and sandy. Due to the shallow depth, the lake warms up very quickly in summer, which makes it particularly attractive for beginners. But this lake is not only suitable for beginners, because on days when west wind with more than 4 Beaufort are predicted, some ambitious surfers from all over Upper Franconia find their way to the lake.
The main wind directions are west and wast, whereby the wind probability is highest in spring and autumn. But also on summer days relaxed free riding is possible as well as freestyle windsurfing.
For more informations about "Windsurfing at Lake Weißenstadt" we recommend the homepage of the surf club
http://www.surfclub-weissenstadt.de