Weißenstadt offers ideal conditions for cycling. Start your bike ride from Weißenstadt to the Nature Park Fichtelgebirge. A uniformly market network of bike paths connects Weißenstadt with the surrounding neighboring towns.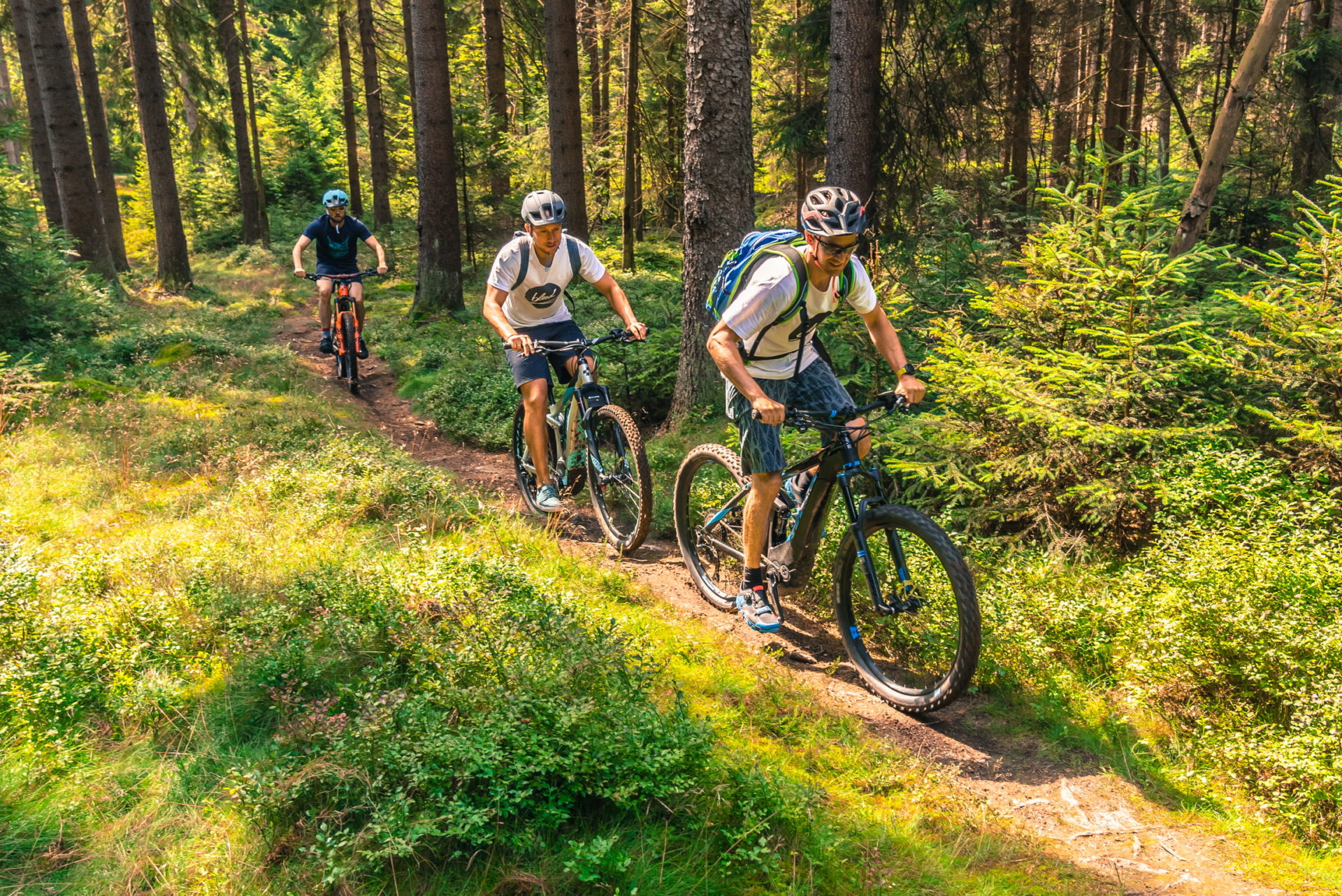 Cycling in and around Weißenstadt
The area around Weißenstadt is ideal for cycling. Even if our mountainous terrain offers some challenges.
Beside asphalt roads, there are forest paths and agricultural roads.
Here you can find an overview of the cycle path network in the vicinity of Weißenstadt as well as suggested cycling tours:
CyclingMap_Weißenstadt
CyclingMap_Weißenstadt_Tours
You can find detailed informations and tour suggestions at the Tourism Center Fichtelgebirge.
WUN 1 – Sechsämter Cycling Tour
Distance: 105 km; sportive tour, suitable for 2 days
Weißenstadt Kirchenlamitz Niederlamitz Hohenbuch Großwendern Heidelheim Schwarzenhammer Selb Häusellohe Silberbach Neuhaus a. d. Eger Hohenberg a. d. Eger Neuenreuth Neudürrlas Thierstein Thiersheim Johanneszeche Göpfersgrün Holenbrunn Wunsiedel Schönbrunn Tröstau Leupoldsdorf Vordorf Vierst Birk Weißenstadt
WUN 7 – lakes – bog – springs
Distance: 39 km; sportive tour with slopes/gradients and inclines
Weißenstadt Schönlind Weißenhaid Egerquelle Bischofsgrün Metzlesreuth Schamlesberg Gottmannsberg Gefrees Tannenreuth Saalequelle Ruppertsgrün Weiherhöfen Weißenstadt
WUN 8 – Wunsiedel – Weißenstadt lake
Distance: 42 km, day trip with small gradient
Weißenstadt Zigeunermühle Frohnlohe Ziegelhütte Lehsten Fichtenhammer Reicholdsgrün Dürnberg Röslau Bibersbach Wunsiedel Tröstau Leupoldsdorf Waffenhammer Vordorf Vierst Birk Grub Weißenstadt
WUN 10 – around the Schneeberg
Distance: 50 km; challenging tour with slopes/gradients and inclines
Weißenstadt Grub Meierhof Birk Vierst Vordorf Leupoldsdorf Tröstau Silberhaus Fichtelberg Neubau Karches Bischofsgrün Birnstengel Höhenklinik Bischofsgrün Rudolfstein Meierhof Grub Weißenstadt
---
Cycling and culinary delights – pub/inn tours
Is there anything better than a delicious Franconian snack and a cold beer after a cycling tour through the wonderful nature of the Fichtelgebirge?
In the brochure "Bavarian-Franconias pub/inn cycling tours" , you can find some great themed tours with typical regional restaurants to stop by.
Have a look under Pub/inn-cycling-tours
---
From May 1st the Radl-Bus starts again
From may to October there are additional possibilities for cyclists with the Radelbus.
Plan extensive tour through the Fichtelgebirge and the Franconian Forest and use the bike bus to comfortable get back to your starting point after an extensive cycling tour.
Our choose any starting point and start the return by bike form there.
Schedule 2019
The current schedule ist available at the Kur-& Tourism information Weißenstadt, we will send you the plan as well.
tourist@weissenstadt.de
---
Bicycle rental with e-bikes
The modern bicycle rental "Fichtelrad" offers rental bikes, courses and tours for groups and individuals. The owner Frank Süß has purchased 30 e-bikes with various frame sizes and equipment (Hardtrail, Full, Trekking) and has also opened a beautiful, rustic café with beer garden, snacks and charging stations in the district Ruppertsgrün as a meeting point for cyclists. Whether daring tours, comfortable excursions, trail fun uphill and downhill, riding techniques seminars, company events, summit tours to the main vantage points or a leisurely walk around the Lake Weißenstadt – everything is possible here!
Ruppertsgrün 13
95163 Weißenstadt
Tel: 0174 575 00 00
www.fichtelrad.de
info@fichtelrad.de
---
MTB-Cycling tours
Up on the highest peak in the Fichtelgebirge, the Schneeberg, the Großer Waldstein and the Eppstein: Mountain bike fans will get their money's worth!
Around Weißenstadt there is a well-developed network especially for mountain bike tours.
More detailed informations about the Mountain bike tours in the entire Fichtelgebirge can be found on the website of the Active region Upper Franconia. Here you can select different tours.
GPS- Tour suggestions